EAST LYME CT
COME SEE THE DIFFERENCE
The town consists primarily of two villages, Flanders and Niantic. It is common for the town of East Lyme to be erroneously called "Niantic", due to this side of town being the "beach" side which is popular with tourists and visitors in the summer months. Niantic's population doubles in the summer months for the beach season, and it has a much higher density than the more sparsely populated Flanders side of town, which is known for its apple orchards, the town's high school, and forest.  Wikipedia
NIANTIC
The village of Niantic gets its name from the Niantic or Nehantic people, whose ranging grounds once extended from Wecapaug Brook, in what is now Rhode Island, to the Connecticut River. Shortly before the first settlers arrived, the Pequots had invaded Nehantic territory and annexed about half of the land claimed by the tribe. According to local historian Olive Tubbs Chendali:
It was the construction of the railroad in 1851 that lured people to the shoreline which up to this time had been known – not as Niantic – but as "The Bank". Long before this time, however, as evidenced by The Diary of Joshua Hempstead – 1711 – 1758 it was known as "Nahantick" "Nyantick" or "Nehantic", the home territory of the Nehantic Indians.
Sportfishing and marinas dominate the village's industry along with summer tourism and restaurant trade. Strong regional businesses include seafood restaurants and hotels/motels serving the town's beaches and the casinos at Foxwoods and Mohegan Sun. Rocky Neck State Park features camping, swimming and picnic areas along with numerous marinas and sportfishing companies.
The Niantic Bay Boardwalk is a one-mile (1.6 km) long walkway that runs parallel to Amtrak shoreline railroad tracks and spans the length of Niantic Bay from the Niantic River inlet to Hole-in-the-Wall municipal beach. It first opened to the public in 2005, but was closed from about 2011 due to a combination of Amtrak building a new railroad bridge across the Niantic River, which required a re positioning of the approach tracks and damage caused by Hurricane Irene in October 2011. The boardwalk fully re-opened to the public in March 2016.
The Children's Museum of Southeastern Connecticut is located in East Lyme's original public library on Main Street. The museum is aimed primarily at children ages infant to ten years old. The current public library is located on Society Road, away from Niantic.
The village of Niantic includes the beach communities of Attawan Beach, Black Point, Crescent Beach, Giants Neck Beach, Giants Neck Heights, Oak Grove Beach, Old Black Point, Pine Grove, and Saunder's Point.
Westerly granite, ideal for statuary, has been used in numerous government buildings of several states along the eastern seaboard. The Westerly area was known for its granite and stone-cutting industry.  Wikipedia
FLANDERS
The village of Flanders, originally a farming area along the Old Post Road, gets its name from the development of woolen mills similar to that in Flanders, Belgium. The heart of the village is located at Flanders Four Corners which is the intersection of Chesterfield Road (Route 161) with the Boston Post Road (Route 1) This area is the site of many small stores and businesses, as well as East Lyme High School, Flanders Elementary School, and the Board of Education.
Flanders was the original center of the East Lyme society with dozens of 18th century homes, shops and public inns situated along the Boston Post Roads until the early 1800s. It losts its pre-eminance as Niantic began to flourish, first with the growth of commercial fishing and then with the construction of the Shore Line Railway.Many of the original Flanders homes have been lost as a result of the construction Interstate 95 in the 1950s and subsequent commercial construction at the Four Corners area. For example, the old Caulkins Tavern stood at the site of the current CVS and was a well traveled and documented stopping place in the 18th century from none other than Sarah Knight in his diary as well as General George Washington who stopped here with thousands of troops in 1776. Some homes remain closer to the Waterford line at the site of the old Beckwith Shipyard at the head of the Niantic River.  Wikipedia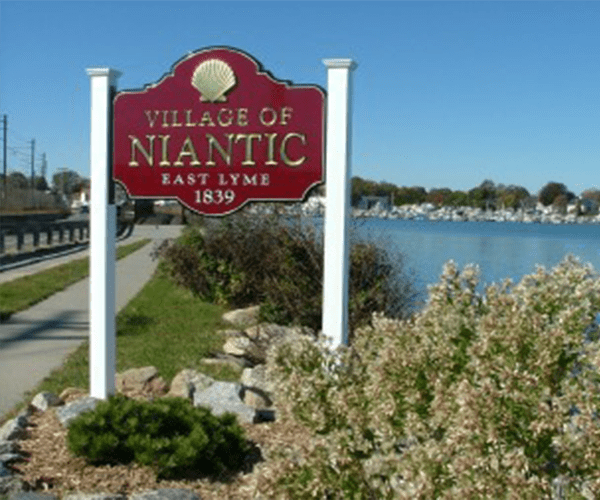 Approximate Travel Time
Boston 1hr and 53 minutes
Hartford 50 minutes
New Haven 44 minutes
Newport 1 hour and 10 minutes
New York 2 hours and 3o minutes
Providence 55 minutes